Well Taiko coped really well at the bengal cat Club Show, Newbury, to say it was his first ever show experience. He behaved very well for the judges, although he is such an active cat and general wrigglebottom sitting still is not his forte.
Taiko was placed 4th in his open and got 2 1st's a 2nd and a 3rd in his side classes.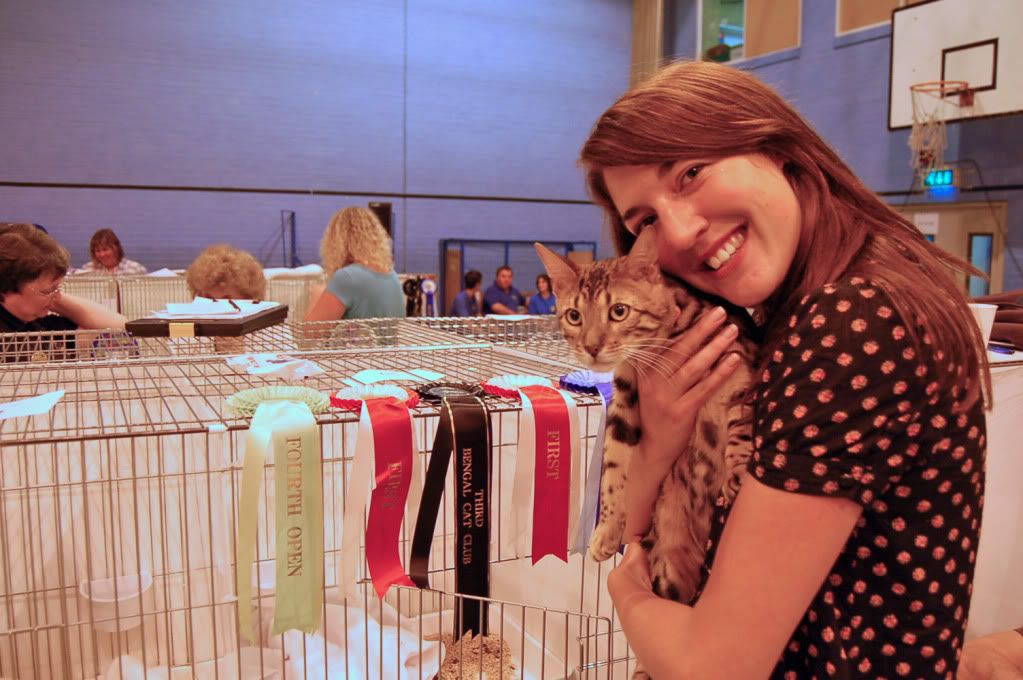 It was a great learning experience, there are a few things I would do differently next time...
I think Taiko was really ready to get out of that small pen by the end of the day, next time I think i will go for a double pen.
Will take a mini one of these next time
http://www.made-in-china.com/image/2f0j ... -501f-.jpg
The mini variety would have been so handy to clean up the chaos he created digging in his pen!
And I would make sure he has had a big breakfast beforehand, as he didn't touch a bite to eat all day at the show.
I didn't want him to feel travel sick so he just had the orijen we leave down, but as we set off early in the morning i'm not sure he ate that much before we left.
He is a very vocal kitty and there was one point where I felt so rotten as he was really appealing for me to let him out and pushing his legs through the bars trying to escape. He did settle down in the afternoon, but I do think some practice at home, at being in a confined space or pen may have helped to familiarise him in hindsight. May look into buying a pen to test the water at home and put him in just for short spells so that he is used to it for next time.
It was a really enjoyable day and there were some absolutley beautiful bengals there. Congratulations to everyone and most importantly to their cats!
Kate (and Taiko)