Firstly this thread is brilliant!!!
Thanks to viperkeeper, and everyone else for sharing your stories and pictures!
Making sure my boy gets to explore and experience the great outdoors safely is very important to me.
Eric loves his time outside and will ask daily to go into the garden.
Its still very early days, and I hope one day Eric and I have enough trust he could maybe walk without a lead, although his love of climbing could make this tricky, but anyhow, I will share our experiences so far. (I have shared some of these pics before, but they go nicely here).
I started walking Eric and 14 weeks, I've had both his jackets made by Mynwood Walking jackets, are have been brilliant. The velcro is very tough and they have never let us down.
Initially I took him out in the garden for the first week to get him used to his lead and jacket, he was very nervous at first, he goes out in the garden every day now and enjoys sitting on the wall watching the ducks ( I have a river running at the bottom of my garden!
)
I then started walking him around the back of my house (pretty fields) and eventually the big, bad woods, his favourite!
And actually the easiest, for some reason, Eric loves walking through the woods but needs persuasion in open land, he must like the cover of the woods.
My friends have accompanied me before on an Eric walk and have expected something similar to walking a dog, this is not the case.
Eric will run in short bursts, stroll slowly and he likes sniffing time.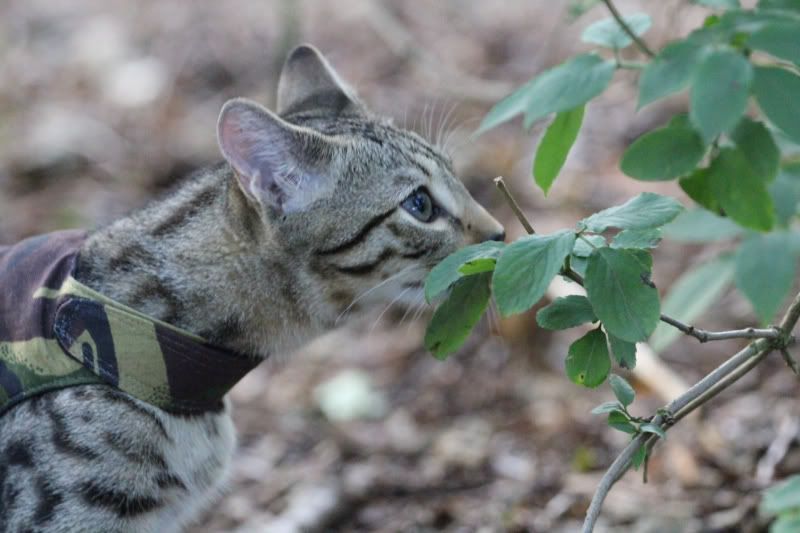 He also takes time for laying about and he loves CLIMBING!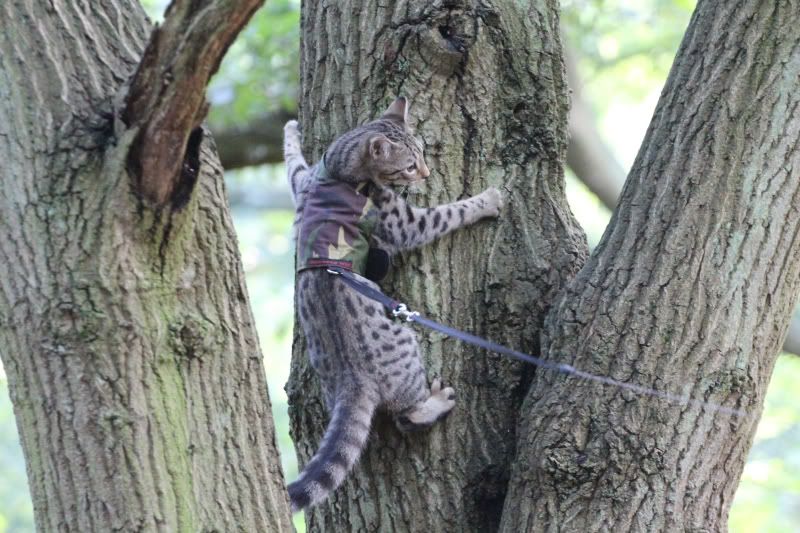 He will randomly run up trees all the time. He never goes higher than my husband can reach, but he always can get himself back down.
There was a time when I accidentally let go of the lead and he darted up this tree pretty high, Eric decided he would just chill there, so my husband did some climbing himself. Luckily the trees are chunky and easy enough to climb. I hold the lead very tight now!!!
I think the climbing is a really important way for Eric to exercise and good for his claws, but I do have to keep a close eye on him.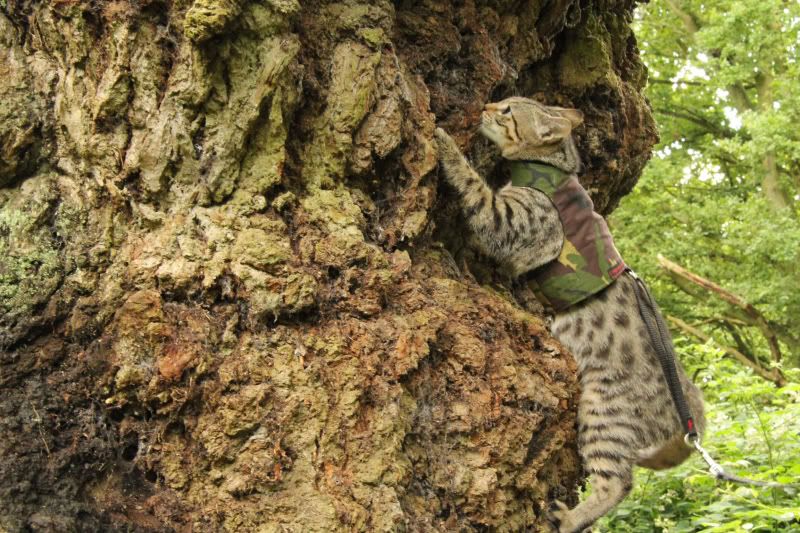 When Eric decides he doesn't want to walk anymore I use a donkey / carrot approach and use a long piece of grass or wiggly stick acts the carrot! Wiggling the grass on the ground whilst walking gives Eric something to follow and gets him moving again as does throwing a stick. Its like fetch but he hasn't yet mastered the 'fetch' part of the game, just the running towards the stick! Still it works.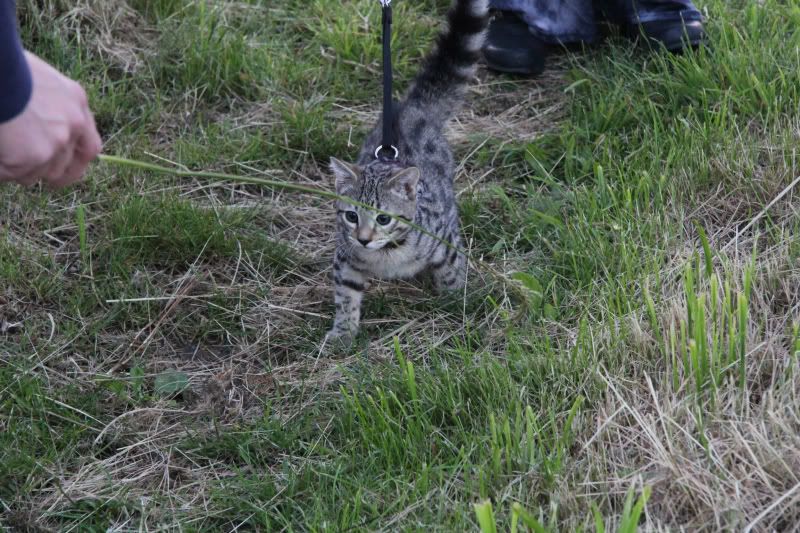 The thing that worries me most is dogs. We do bump into lots of dog owners on our walks. I would like Eric to not be phased by them, but he gets instant busy tail!!
Most owners are lovely, want to chat and put the pooch on a lead. Others tut at me and let their dog continue to run. In which case, i just pick Eric up. Not sure thats the best option, and not sure how this will work as he gets older as he is already getting quite heavy! Any advice here?
In the car Eric either rides on my lap in the front if the husband is driving, or i clip his lead to a seat belt with a caribeaner (not sure how you spell that) He seems to like the car journeys and looks out of the windows. On the way home he normally kips on the back seat!!!
So overall I love walking my cat and more importantly I feel he really benefits from it, fresh air, exercise, being at one with nature and quality bonding away from the house with me.
Eric is a handful at times but when it comes to getting his jacket on he sits on my lap perfectly still. When he wants to go out he will sit and the door and miow, I either take him in the garden or walk with him when he asks. He also also very well behaved when we return as he is usually worn out!!
Yet to do camping, but this is something we will be doing this summer and I will update you all on how it went.
Just like my boy, I love trees too.
x