Excellent thread! LOVE the advice and stories shared thus far! Looking forward to reading everyone's tips and adventures (& of course pics!). +1 everyone should spend at least a day in the forest with their Bengal! A whole new side of Max comes out in the woods. I wouldn't believe it if I hadn't done it.
Viperkeeper- excellent advice and killer jacket! The outtake pics are so cute! I bet he helps you with everything!
Alison- Are you taking both furkids? Sorry your campsite's flooded! Tino is adorable. Great pics! Can't wait to hear more!
Michi- Great pics & as always your tips are my cat walking 101. (highly recommended!)
We are new to kitty kamping, and to Bengals as Max is only 8 months old. As far as big outings go, we've had day trips to the national forest, 1 overnight tent camping adventure and 1 overnight at the beach. Most of the information that got us started was advice from the BCF!
Pics and stories of our big adventures so far can be found in the "Menagerie of Max Marvelous" in the gallery. I will try to include some new ones here also! We hope to go on another camping trip very soon.
I've already splattered our adventures all over the BCF so forgive the repeats but I wanted to try and include the highlights here for anyone new to kitty kamping.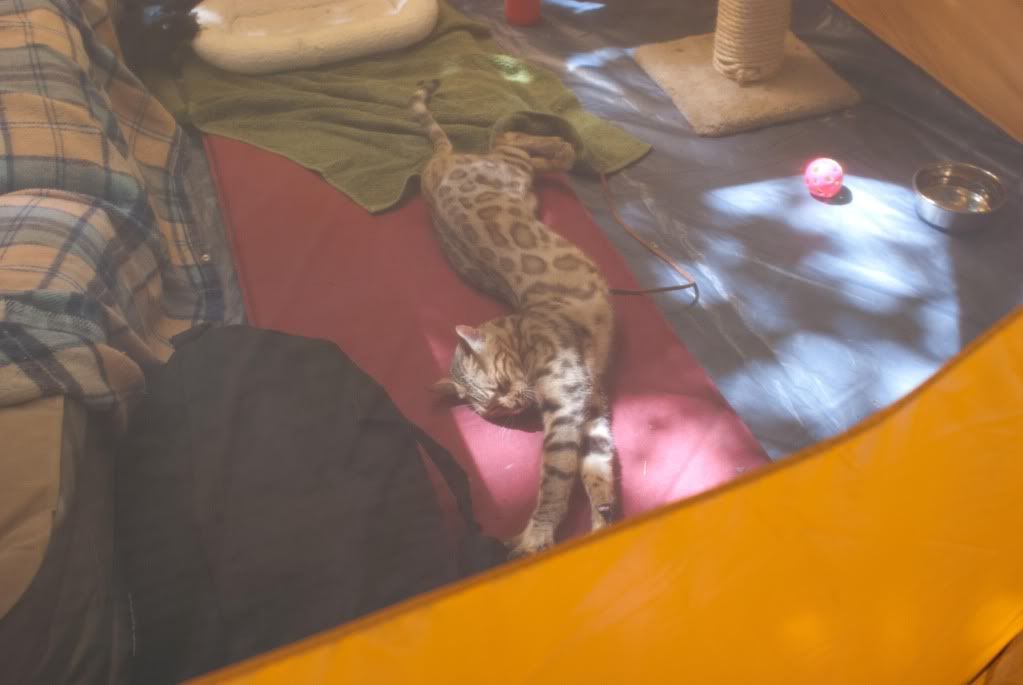 Morning snooze. (I'm in the tent with him so that's why his collar and walking jacket are off.)
+1 Prerequisites are key!
Harness, leash, and car ride training are the foundation these adventures build upon. Michi's walking tips are spot on! For car training the only thing I would add is to be quiet if your cat is making a lot of fuss, and comfort your cat gently when they are quiet. I did it backwards on our first long car ride and I made him more upset. The other way around made him calmer.
What is that?!?
Take it at kittys pace!
Max loves action and adventure but is very cautious under new circumstances. As we introduce him to more new situations and experiences, he adapts to each one more quickly (going from cautious to "Lets explore!") than he did in the beginning. In the beginning his cautious nature me very nervous that my dreams of kitty kamping may not be his.
We slowed things down and took it one step at a time. This has worked very well and has been good for both of us. He is able to enjoy the experience more, and we are sharing an experience that really energizes us both. It is building a bond like I have never had with any pet. Hard to describe without getting extremely sappy.
(Speaking of sap.....
Anyone got good tips for sap removal from a cat? We improvised with a Clorox wipe to cut through the sticky and then rinsing with water but would love to find a better / safer solution. )
Back to Kitty Kamping training.....
While introducing Max to new things, staying calm is so important. He requires me to stay in the moment. By staying in tune to what he loves and what's freaking him out I can better respond to him and also learn things about him that benefit our relationship at home too.
Max has a "flying squirrel" string toy he loves. (First toy we ever bought him.) We keep it on us so when he's out there we can pull it out if needed for distraction, reassurance, or redirection. Works wonders to get him to go where you want if he's choosing not to come along too.
We consider our trips with him right now his training. It is more work than it probably needs to be, more exhausting, intense, crazy, but more rewarding than I ever imagined as well. These trips are not a vacation yet, we have to train him what vacation is first!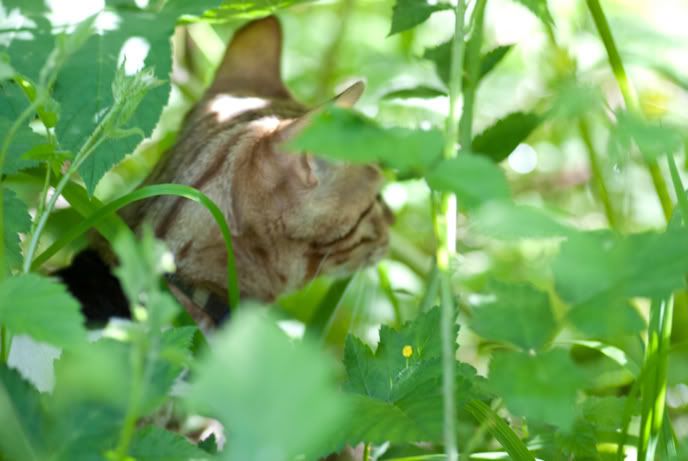 Home Base-
For any outing we set up his home base first and make him stay there and soak in all the sights, sounds and smells like Pouncey. Max gets too upset if we leave him alone at home base so instead OH or I sit with him and ignore him unless he seeks reassurance. It helps him settle in faster. At his home base he has his scratcher, bed from home that smells like him, a favorite toy (a security thing more than for playing but toys for in the tent are good too), litter box and water. No food yet. After he has really checked out home base, we can go explore but it happens when the humans say its time. This is like at home. We take him out on our schedule. He is spoiled but we don't want him getting too bossy!
Sometimes home base is just an area on the ground, sometimes it's the tent. We were going to use a screen room but he didn't need the extra room and our tent has screen on all sides so he can see well from inside. If we do longer camping trips we may still try this. He would rather be outside than in there without us but for kitties who like feeling secure inside it may be good to have a room just for kitty.
When you gotta go... You gotta go!
Kitty Gear:
Max has a Happy Housecats walking jacket. (We just ordered one with reflective stripes to increase his visibility in the woods in hunter orange so he won't be mistaken for a wild animal. After seeing the locator pocket in Pounceys jacket we inquired and Louise will be adding one for us! So excited. We dont let him off lead but I have butter fingers and in the dense forest the backup of a locator would be great. Thanks VK & Pouncey!) We have an extending leash like the others posted and a fixed leash. For new places with dense brush I use the fixed leash to have better control some doesn't get tangled.
For our overnight trip (&nightwalks) we added little night lights used to walk dogs (Viperkeeper tip) to his collar and harness d ring. This was essential or he would have disappeared from our vision! We could also see what he was getting into because the one on his collar lit up in front of him. We used a red one as it doesn't interfere with vision as much (another VK tip). In the tent we used some glow sticks in the pockets so it was like a night light. That way we could check on him and he could easily see us. Maybe more comforting? I will continue the glow sticks. It was pretty fun to watch him watching our campsite "visitors" I'm the night or to see him crashed out.
We use a 4 person tent for the two of us and Max. That leaves plenty of room for all his essentials and ours. IMO any smaller would be tight especially with litter paws. We don't leave Max in the tent without someone in earshot at camp just in case. I'd be scared he'd get the tent open or something could rip it open trying to get to him. I'm a bit overprotective too though.... Or so I'm told. Our vehicle can be turned into a Kitty Cabin in case of emergency. We also take his collabsible carrier just in case something happened but he doesnt use it otherwise.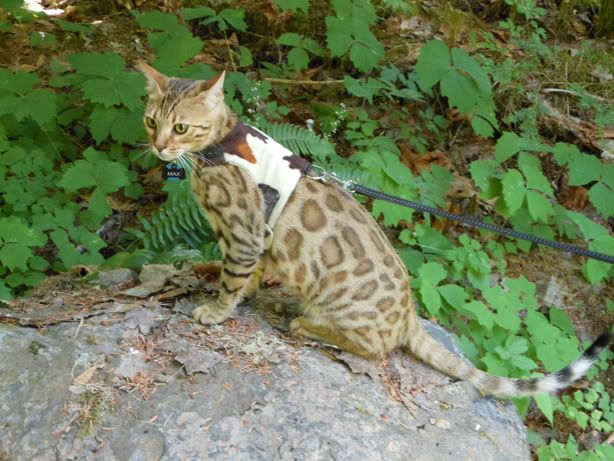 Overnight trip:
When we stayed at the beach with Max the hotel had grounds like a park or resort (play areas, open spaces, paths etc.), and the room was enough like a house he adapted quickly. It was an easy transition. All he needed were his home base supplies! Make sure your hotel is pet friendly and knows you are bringing a cat! Many places will say pet friendly but only allow dogs.
Getting used to the gear......
Since a tent is very differnt from a house or room with real walls we wanted him to be familiar with it before we got int he woods. We got Max used to the tent and basic camp gear in our backyard before going to the woods. He was out there for set up and take down too so it didn't scare him. We played and napped in the tent.
Woods test.....
We took him on a day trip to the woods where we did everything we would do on a camping trip except sleep over. We had the tent, grill, cooler etc. That way we could see how he did with most of the aspects and get him used to them before adding the stress of sleeping in a tent in the woods overnight.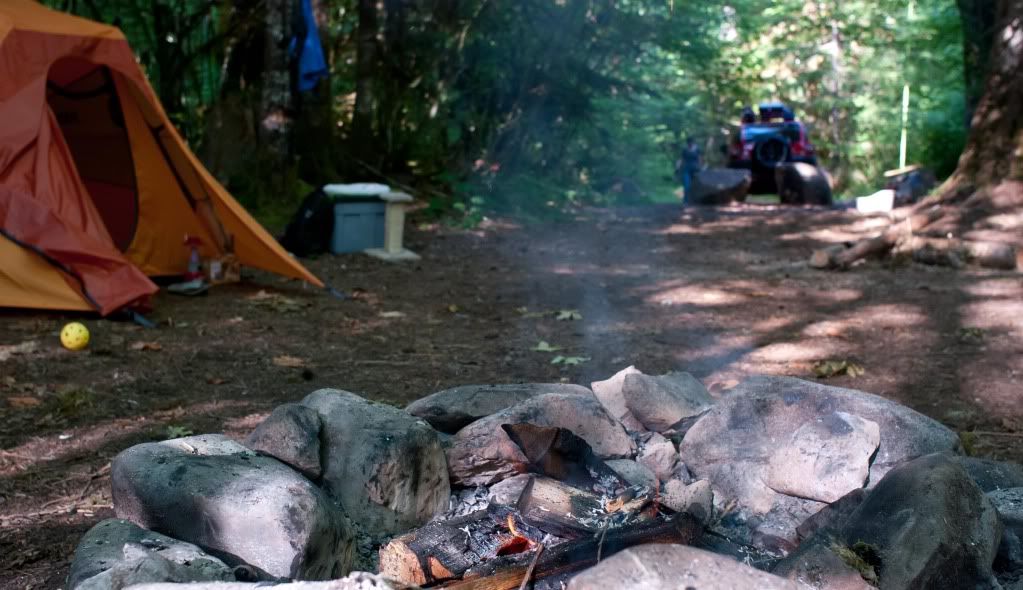 Dealing with dogs & wildlife:
We camp at very primitive campgrounds or just in the national forest but not an actual campground (yet?) so we rarely see people or dogs. When we dealt with dogs at the beach we followed what many of you do in the city!
your advice has been great!
Max won't jump on shoulders like Pouncey but I do have a small shopping bag he likes to jump in and ride around in. It wads up into my pocket and if I see something that may scare him I get it out and he will often climb right in and let me scoop him up. (he taught me this at home!) Just feeling protected inside works for him. I recently got a pet sling that I am going to try and train him to use in the same manner as I think it would be safer.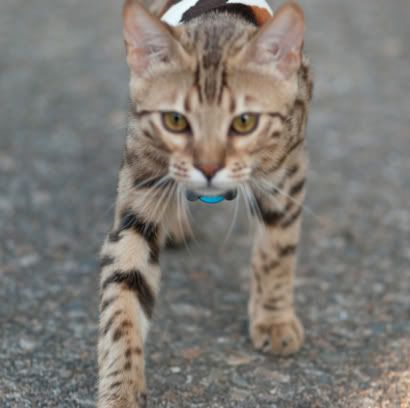 Other small animals have been FUN for Max but just like in the city, the human must be vigilant at all times. Even the chipmunks and birds are more brave out there and will actually go after Max instead of just running. I don't know what those critters could do or be exposed to so when they get too close I step in. They still run from humans. For the big bad critters who don't, I have the pepper spray for self defense. (never used....thankfully) I'd be interested in alternative solutions and am hoping someone may have ideas, especially since I think there's no mace allowed?
Max still isn't sure how he feels about dogs anywhere yet. Since we try and expose him to new things as gradually as possible we have looked for places where we know dogs must be well behaved/controlled (& plenty of space for Max to feel like he's avoiding them) or places where it is highly unlikely we will see another person or dog. Campgrounds, parks etc. that have good security patrols and high fines for off leash violations seem to be good bets. We just found a college campus nearby with trails and streams that will be perfect for walks.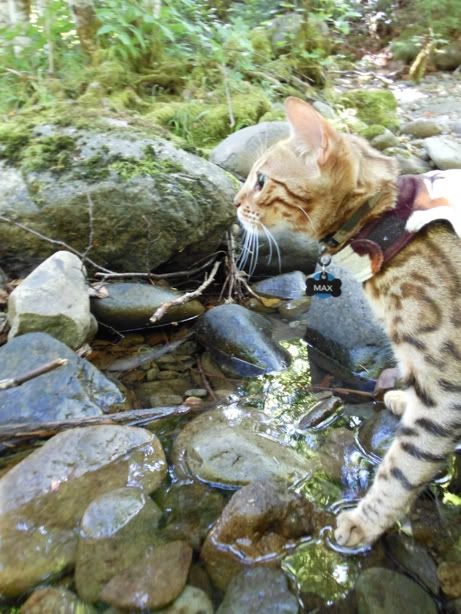 Sorry this was such a long one. I'm sure I forgot things so if you have questions please ask! Hope this helps anyone interested in Kitty Kamping get started. Let the adventures begin!