Well, is it me or does there appear to be a theme here
Went to the Gwynedd show yesterday and was refused entry due to an injury on Leon's nose.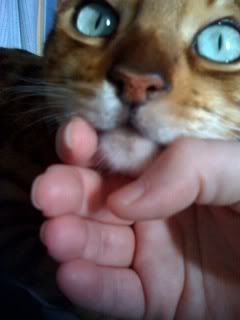 Personally, I did not believe it was an injury as Leon has had a scabby nose for well over 12 - 18 months and his nose has been worse than that and has never been refused. Anyway, I digress, she also said it COULD be cat flu or that he had been sniffing bleach????
There is NO way he could be anywhere near bleach, plus the loo seat is 110% left down at all times. He was checked by vetting in vet and duty vet who both said that he is 100% fine in every other way though - phew.
I took him straight to the vets, better to be safe than sorry, from the show venue and he disagreed completely. Thinks that he maybe allergic to something so gave him an anti inflamitry injection and told me to phone on Tuesday to let them know if he has improved. If so could be that he will need twice yearly jabs to counter his allergy. If not he may have a "nose problem" which to diag'nose' (sorry) Leon will need to be anethatised and have biopsy taken and sent off for testing.
Don't know if this could cause more problems and as he would have had some flesh taken from his nose and stitched, will I still be able to show him (as a pedigree pet)???
Have no quarms about retiring him from showing as my boys are the most important things in my life.