Hello everyone!
I'm the proud mommy of Salem and Cybile, whom you can see in the gallery section. Since I'm new to this forum, I thought that it could be a good idea to share with you my experience with bengals, and answers at the same time to many posts in this forum. I'll try to be brief (ohhh tough for me
), and if you're patient enough, you will see a bonus at the end!!!
1) Getting informations
I discovered bengals by luck on a cattery website who was selling both bengals and siamese (yeah I was looking for a siamese first hihihi). Me and my boyfriend fell totally in love with the little leopard kitties shown there!! But I wanted to be sure that it was the right cat for us. I began research on the Internet, ordered books about the breed, and even visit a far away breeder that invited me to see her cats ''in person''. I think it's important to know at least the basics before taking the big decision. Those cats have special needs, they are really active and social-oriented, and required a lot of attention. It's not just about a gorgeous coat, they are special living being that hopefully will be with you for a long long time! Just think about what your real motivations are before taking a hasty decision.
2) Choosing a breeder
It can be tough!! I contacted a lots of them before finding the right one!! But once it's done you will never regret it! I contacted almost all of my regional breeders but didn't find one that suits me. They seemed quick about making a buck, and my feelings weren't that good... I found another one in the same province, and visited her but she didn't had any kitten available. She refered me to one of her friend in Ontario Canada, and I called her and we didn't stop talking for an hour! We write to each other for a few months, and I will never forget the e-mail I receive last september: ''I have the right girl for you, if you're ready for a kitten now!'' (really short version
) So now she answers to my every worries, questions and we develop a solid relationship. She is really generous and caring for her cats and the breed, so it's very helpful and comforting when needed!
3) One or more cats?
I definitly say more than one, if at all possible! Not necessary two bengals, but two cats, any cats. They can play together and keep each other company when you're not there. It's not much more work, you can believe me, and not that costly either. It can even prevent some type of misbehavior like some seen in bored cats that are alone. I would never imagine in the future living with only one cat, but again it's my opinion.
4) Food/Treats
I give my cats Eaglepack Holistic Dry Food, but recently changed for Hill's Venison Dry Food because my yougest girl Cybile seems to be allergic to chicken protein. Me and my vet are trying to see what causes the reaction (she had some really dry pinkish skin behind her thigh). So my girls aren't getting any real treats right now (bou-houuuu
).
5) Indoor or Outdoor?
I don't let my girls outdoors, and I don't think I will ever do it. I live an appartment in a big city, and there's too much threats around. Not to mention I lost my siamese years ago in an accident, and I was living in the countryside...
6) Litter
I use two litter trays, located in the same room. My cats are doing their buisness in both. I use scoopable, natural, dust-free clay litter. It's pretty cheap, and I never had any litter ''accident''. I'm removing ''waste'' every morning so it never smells (both for us and the cats), and I'm cleaning the trays themselves once per week/2 weeks.
7) Toys
I bought almost everthing on the market to see what pleases them most. First they seems to like small toys. I discovered that Salem prefers straight, small furry mice and rainbow colored balls. Cybile goes crazy for feather teasers. They both enjoys cardboard boxes, paper bags, pencils, rolled paper, and virtually anything that is new in the house. They like to watch tv (cartoons!), climb on everything (even us!) and goes to possible and impossible places!!
Funny facts
Living with bengals is something!!
I just want here to share some fun facts. About Salem: she is the talkative girl in the house! She's not crying or begging, she chats with us all the time and loudly purrs at the same time! She even talk through the window with our neighbor's huge dog! And yeah she kisses us and parade like the queen she is!! As for Cybile, she's our little trouble maker! She meows at the ceiling lamps, she jumps everywhere, she's not afraid of anything, but wants to nurse on mommy's blanket everytime she can!
I have loads of cute stories to tell but I'll make another post I think...
9) Bonus!!!
Here is some more pictures of my babies!!! Enjoy!! BLOOPERS!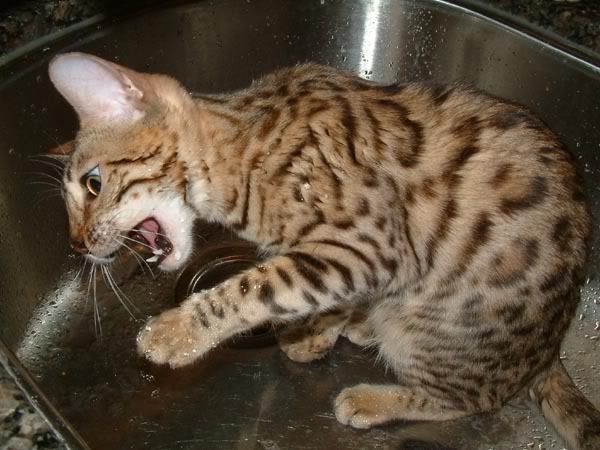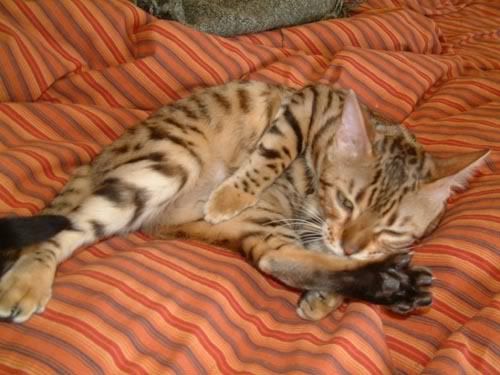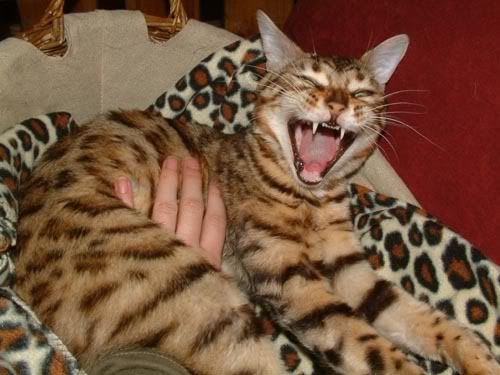 That's about it for now! I'm sorry for the (very) long post but I hope it will help some people in a small way! Having bengals with us is a wonderful experience, and I never get tired talking about them.
This post is based on my experience only, a loving and meaningful one
!
Thanks for reading!
Sysh
PS: English isn't my first language, so please be merciful!