Kristin8 wrote:
You can get ringworm from animals, yes...I once got ringworm from a client at work
( I am a registered massage therapist) and it looked at first like what your pics show, and then after a short time the center got clear and it spread. The ringworm was not itchy though. An anti fungal cream took care of it. Like one poster said whose husband is a nurse, it does look like more of a contact dermatitis right now from your pics...I am highly allergic to nickel and have to paint jean grommets, bra metal, certain earrings etc with clear nail polish to wear them...or I get a similar unbearably itchy weeping mark!
Kristin
We thoroughly looked the boys over and all is clear with them or so it seems. Wouldn't we be able to tell if they had it just by looking through their fur? That's what worries me the most... where it came from if that's what it is. Then we would have to deal with treating the kitties and whatnot if they were the culprits.
Just trying to make sense of it and i'm frustrated because i am such a hygiene freak and idk how on earth this came about. lol. I was putting hydrocortizone cream on it for the itchiness (which seems to be getting worse and worse) and it didn't do much at all for the actual physical appearance of it. I looked at a million pictures of dermatitis and mine looks much more like ringworm than dermatitis which seems a lot more blotted, but of course i'm no professional by any means. Going to talk to a friend of a friend who is a dermatologist this morning and see what they think and if they can just call something in. Between work and the holiday there is no way i'll be able to see someone at an office.
I didn't know that ringworm doesn't generally itch. Whatever I have is driving me craaaazy. Very interesting. This morning, like you mentioned in your case, the center cleared up. This is what it looks like now: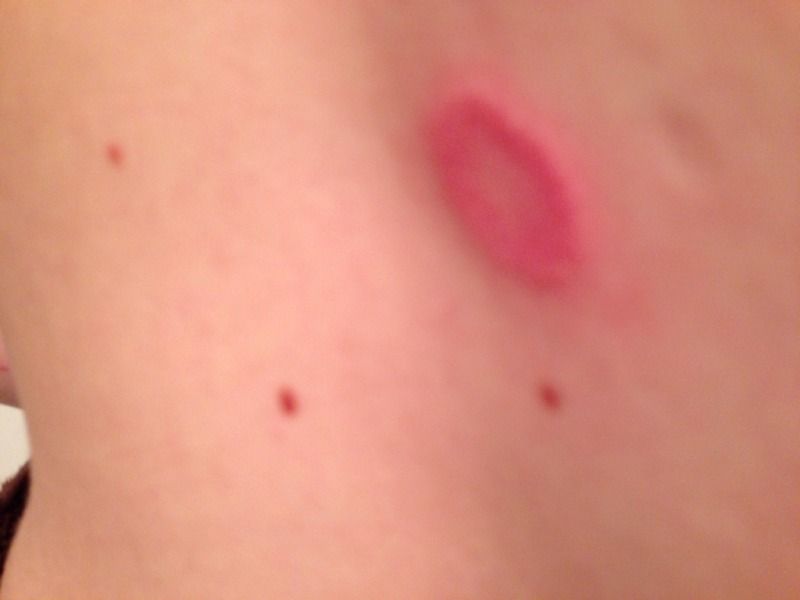 Thanks for your help, Kristin. Hopefully I get to the bottom of this and it has nothing to do with the kitties.