Just wanted to say hello and introduce myself before diving all over the forum and replying to posts.
I've got 2 Bengal babies - Taz who is a Snow Leopard and Cassie who is a Brown Spotted. They are just 2 years old now and I got them in December 2005. My user name is the name of my original 3 cats. Oscar and Felix were beautiful Sealpoint Siamese, the traditional, stocky or apple head variety. They were truly fabulous cats and sadly we lost them both in 2005 after nearly 18 years together. Jake is our 8 year old black (Bombay) cat who we got from the cat protection league when he was a kitten.
Jake used to be a horrible, viscous and unfriendly cat, but he has changed since we got our 2 Bengal babies and now he has become a friendly, strokeable and happy cat.
We don't let our Bengals out but have converted our patio into a large outdoor cat run so they can be in or out as they wish.
Here are my cats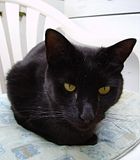 Ali x