Hello everyone!
I'm fairly new to cats (I've been mostly a dog person) besides the cats I had growing up. When my hubby and I decided to get a cat, we ended up falling in love with the Bengal breed.
We went to a few cat shows last year and talked to some Bengal breeders and ended up being put on a waiting list with one of them. We just got our new kitten a couple weeks ago, a silver female we named Denali.
We currently have 3 large dogs and she has loved them since the day we brought her home, especially our younger lab. Lol, we're learning first hand that they are a very interesting breed. She's loud, obsessed with the bathtub and sink, loves the snow, climbs the Christmas tree (and anything else that's in sight), and she even plays fetch (better than the dogs even!) Despite her crazyness, she is also a very sweet cat and we're very glad to have her.
Now onto the best part! Pics!
Yesterday in the snow
Denali and her dog friend Qenna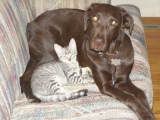 At 12 weeks when we first brought her home
I have more too if you'd like to see them but didn't want to bombard you with them
I am also noticing how drastically her coat changes. When we first brought her home, she was all silver and black and a little fuzzy. Over the past couple of weeks, the fuzziness has started to go away, her markings are becoming more clear and she's starting to get brown on her face and feet.
Anyway, I look forward to meeting and talking with other Bengal owners!