Hello Everybody,
It's been a few months since I posted, so I figured I would update and share some pics.
Overall she Selkies is doing very well. She is 8 months old now and I can't believe how much she has grown. She weighs in at just under 10 lbs!
The cooler temps have started to come back in my area and sure enough, she has began sitting on my lap again to snuggle and nap! The entire summer went by without any lap sitting, but now she's all about it!
The ankle biting has seemed to have gotten better, but occasionally she still gets in one of her moods, and decides that my feet or arms are appealing to bite and scratch! I'm thinking it's just her being a kitten and she will hopefully grow out of it as she gets older. I have noticed that especially when she is being bad, and I have to shout at her "no" or interrupt her bad behavior, that's when she tries to retaliate and fight back!!
She is very welcoming to visitors, and so far has been willing to let my friends play with her and pet her without any problems. Although sometimes she will go run and hide when she hears somebody knocking at the door, but after realizing who is visiting she will come right out.
I set up a few boxes so she can get to the top of this cabinet in her litter room, She's liking it, but I can see she's getting a little heavy for the boxes, so I may end up putting a pole there with rope wrapped around it so she can climb right up.
This shot turned out a little out of focus, but I really like her stalking like appearance haha!
Getting a drink
This is a very bad spot for her, she just doesn't realize it!! The pan is located above my wall mounted microwave mainly for display, which is the highest point in my kitchen, and she loves getting up there!
Her chilling in the litter room
This is the toy that she loves playing fetch with, she has gone through 3 so far!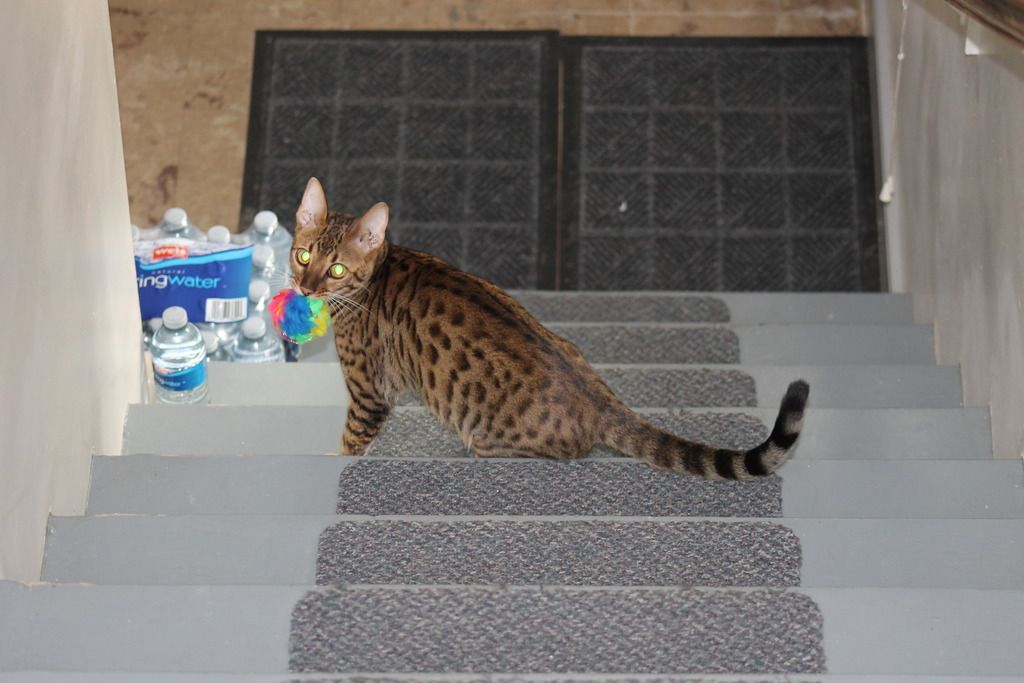 I'm sure you have all seen this pose before, showing her wild side. Unfortunatley I didn't capture her running sideways too, which normally come along with the poofy tail!!