CMYKjill wrote:
I'm no expert, but he looks part bengal to me.
I dont think it's possible with pink paws. As far as I know, every bengal has black paws. This means that the alleles for the trait are both dominant. A dominant pair from dad cat and a dominant pair from mum cat results in dominant-dominant for the kitten - or black paws. If a bengal is crossed with something else which has pink paws, then the kitten gets one dominant allele from the bengal and one recessive allele from the moggy. The kitten is therefore dominant-recessive at the very least. As you only need one allele of the pair to be dominant for the trait to be expressed, then all the kittens of a bengal cross will have black paws, regardless of the other cat. The next generation would be different and could have pink paws. So if a cat is 50% bengal, it will have black paws, if it is 25% bengal, it could have either black or pink.
It's been some good few years since I did my genetics module at university, so I could easily be wrong.
Also, I dont think the marbleing on bengals ever forms a bullseye like it does on tabby's. Here's a side view of my marble (sadly no longer with us)...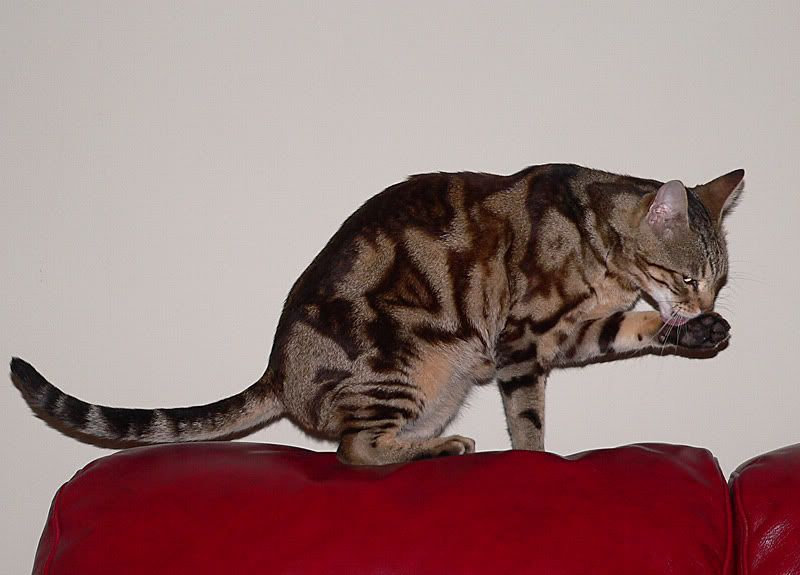 I definitely could be wrong about this, but I'm sure I remember reading that the marbleing never forms a complete circle/bullseye on the side. I wouldn't take that as gospel though.