Good day folks. Long time cat owner and fairly new Bengal owner. Here's LittleLee at 6 months old. I've got to say that they are the most people oriented cats that I've ever seen. I've owned cats since 1966 and these animals are amazing. If I'm watching TV he has got to be on my lap getting his rubs while he naps. If I'm on the computer he has to be on the desk.....usually right in front of the monitor.
If he's being ignored he doesn't like it. It appears to be "all about him". He'll bring his rolled up piece of paper to play fetch and he will put it in my lap. If you don't play he'll make some strange noises until you do.
He loves the bathtub and loves to play in the water. I had read some about these cats before I got Lee and some seem to think they have a mean streak. I've never seen that. I own another cat and they have always got along great.
Even complete strangers will comment on his pleasant personality. I don't tell them that sometimes that same personality can be quite imposing.
He's now a year and a half old and weighs 18 pounds. I believe that he can jump as high as he wants. I'm not sure there is a limit.
Thanks for listening and keep up the great forum. It's a pleasant surprise to see so many other satisfied owners in one place. Now if I could just figure out what all those weird "Clicks" and gutteral meow's mean I'd have it made. They do make some really strange noises.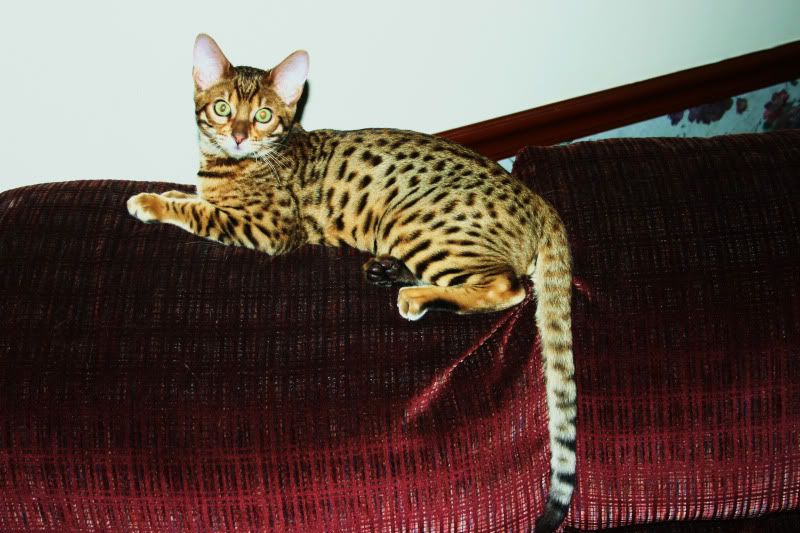 [/img]
He likes to help me work on my car's engines.
[img][img]http://i118.photobucket.com/albums/o100/billburgette/IMG_2075-1.jpg[/img][/img]